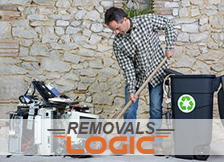 If you need to get rid of the wastes in your house, office, shop, warehouses, domestic or commercial properties, you can use our rubbish removals service. It will guarantee you properly and timely removing of all the rubbish you need to free your property of. We offer same day and next day rubbish removals, loading, proper disposal and recycling of the wastes. Whether you have done a spring cleaning, office cleaning or cleaning of your warehouse, you can rely on us to have your rubbish collected and recycled. Use our services for the rubbish removals you need, available for all residents of London.
Reliable Rubbish Removals
Our rubbish removals are reliable and will guarantee you:
Same day removal
Fast collecting of your wastes
Proper disposal of the rubbish
Recycling of the rubbish, whenever possible
Collecting domestic and commercial wastes
Rubbish removals in the most preferred time for each customer
Affordable prices
Our movers will collect all the wastes from your home, office, shop, studio and other property and dispose them accordingly. All recyclable items will be send to some of the recycling centres in the area. Our team of movers will arrive at your address and collect all the wastes in their vehicles so they can drive them to the recycling centre. They won't disturb you while they do their work. We can offer you removing of all the clutter from your home. Use our rubbish removals service to get rid of the unwanted old furniture, kitchen appliances, electrical devices, clothes and much more. We offer these services in London every day.
Use our affordable and trustworthy rubbish removals to clear more space in your home and office, domestic and commercial property. You can get rid of all the clutter you have, using our services. Our movers will arrive in the expected time and gather all the rubbish from your home or business property. Use our professional help to have more space in your home and office and keep them clean and tidy.
We offer timely, reliable and inexpensive rubbish removals, which are available in London from Monday to Sunday. Call us and arrange a suitable date and time for your rubbish removal. We can offer you fast and professional work, done according to the requirements and needs of each customer. Our rubbish removals are affordable and will ensure you the cleanness of your property.